Thanks to Food Concept, for our Custom Food Trailer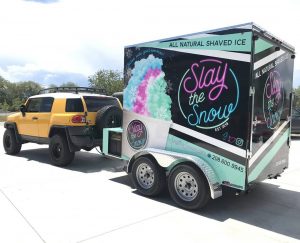 Special thanks to Food Concept for helping us build our very own custom mobile food trailer. Not only are they amazing at what they do, but they are a delight to work with as well.
~Taryn and Yuriy
Slay the Snow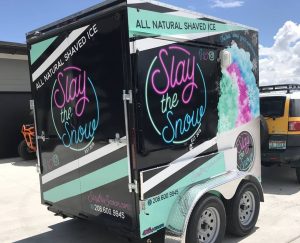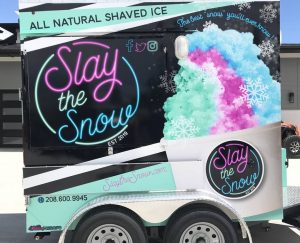 The Crew at Food Concepts Really Knocked it Out of the Park!!!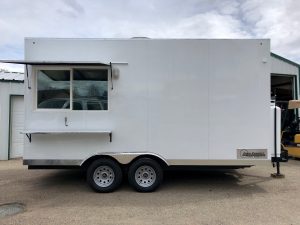 I had them build me a trailer for Washington state which is a monster when it comes to L&I. Naomi and Brenda did an outstanding job with coordination and made sure all the T's were crossed. They communicated with me through the whole process and assured me that they would make it happen. When we drove down to pick it up I was pleasantly surprised at the look of my new rig. From the frame up everything was thoughtfully and creatively designed. I was surprised to learn that they didn't buy the trailer and simply add the equipment they actually built the trailer around the kitchen we created. Everything that the crew at food concepts used to build my dream trailer was high quality and brand new. I would highly recommend these guys and would use them for any future endeavors that I may have.
Thank again!!
Chef Nick, A Taste of Plain
We are so Happy with our Decision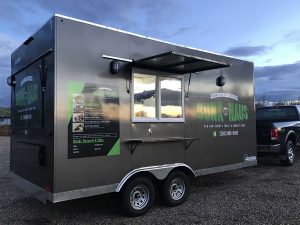 "Thank you Ozzie & Brenda for building us an incredible concession trailer! Food Concepts was flexible with our ideas and willing to work with us on changes through the process, and finished ahead of schedule. They took care of all of the small details and built a quality trailer that looks and functions great!
The inspector said this is exactly what a food truck should look like. We are so happy with our decision to use Food Concepts – we'll be back!"
Dick Bunker, owner of Bunk-Haus Food Truck
Food Concept Built a 100% Custom Trailer, Inside and Out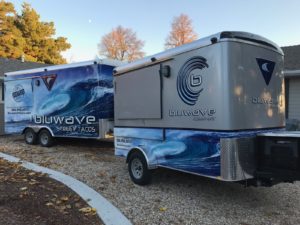 "I had a great experience working with Food Concept. I was lucky to find them. They worked out detailed floor plans, including everything I needed, and some things I didn't know I needed!
It was very consultative, and everything was designed custom from the ground up. It was excellent customer service start to finish – Highly recommended."
Andrés Nicolás, owner of Bluwave Tacos, bluwavetacos.com
A Good Experience Start to Finish
"We wanted to start a taco truck/concession stand and went to Food Concept with our ideas. We were just starting out and didn't know exactly what we needed. They listened to everything we wanted at the first appointment, and started asking questions. They had all sorts of suggestions and improved on our ideas. It was very useful to have their expertise – we have everything we need – and they made it happen."
Adriana Mesillas, owner of Tacos el Patron